International competition of student scientific works
Received two diplomas of the II degree at the International competition of student scientific works in the specialty 141 - Electric power engineering, electrical engineering and electromechanics
on the basis of Mykhailo Ostrogradsky National University of Kremenchug
by students of AP01-17M group Galushko D.V. and Kuznetsova A.V. for work:
"Development of a stochastic model of the shop electrical network"
under the guidance of associate professors of the Department of Electrical Engineering Nikolenko A.V. and Kuznetsov V.V.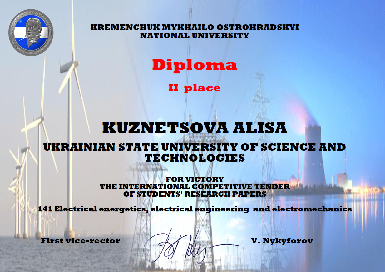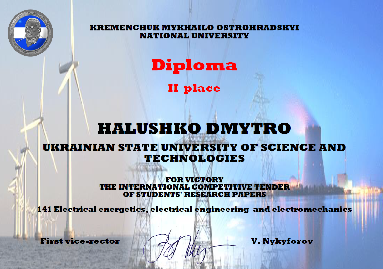 In order to improve the skills of research and teaching staff on October 27, 2020 at the National Metallurgical Academy of Ukraine in the framework of the international project Erasmus + "Strengthening the role of free economic transformation in the context of Industry 4.0 in Georgia and Ukraine" (HEIn4), 609939-EPP-1- 2019-1-BE-EPPKA2-CBHE-JP hosted a webinar that completed a series of trainings by Festo.
Festo is one of the world's leading suppliers of automation and mechatronics technologies, as well as a leader in industrial training and training programs, particularly in the context of Industry 4.0.
Festo representatives answered the questions of the webinar participants and summed up the results of the training program. In addition, as a goodwill, Festo provided all project participants with free access to its training resources on the Festo LX platform until the end of 2020.
The training will be the basis for a significant increase in the level of educational and scientific activities at NMetAU in the field of modern technologies Industry 4.0, ensuring our continued leadership position in cooperation with enterprises in the region on compliance with innovative technological trends.
You can find out more news about the HEIn4 project on the website https://hein4.net
Senior Lecturer Viktor Kuvayev received a certificate of a face-to-face distance learning seminar "Industry 4.0 in modern industries. Essence, key elements and practical application "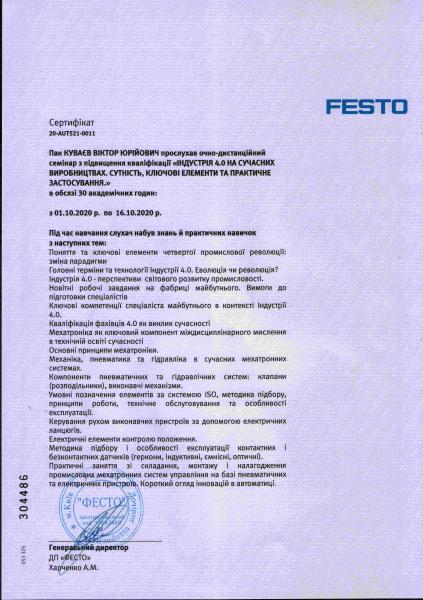 Creation of student scientific circle
At the department of electrical engineering and electric drive on the initiative of the head of the department organized a student scientific circle "Electrotherm"