---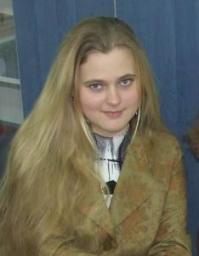 Polyakova Nataliya
candidate of technical science, assistant professor
Contacts:
E-mail: lija618nat@ua.fm
Phone : 3837
Room : 282
In 2004 has graduated from the National metallurgical Academy of Ukraine on a speciality «metallurgy of ferrous metals». Since 2010-candidate of technical sciences on the specialty 05.16.01 - metal science and thermal treatment of metals.
Deputy head of the Department "QSS" on career-guidance work.
Lectures in NMetAU disciplines: "Fundamentals of technical creativity", "Processing of results of measurements, tests and control", "Bases of design", "Metrology and standardization".
The direction of scientific research: increasing the operational stability of forming rolls.
Author about 20 scientific treatises. The main treatises are:
- Пинчук С.И., Куцова В.З., Полякова Н.В. и др. Статистический аналіз результатов исследования жаростойкости белого высокохромистого чугуна марки ИЧХ16НМФТ// Теория и практика металлургии. – 2008.- ?1;
- Пинчук С.И., Полякова Н.В. Влияние високотемпературного воздействия на структуру и фазовый состав белого высокохромистого чугуна// Металознавство та термічна обробка металів. -2008. ?3;
- Ягольник М.В., Бойко М.Н., Полякова Н.В., Вылупко Е.Е., Кривоносов С.А. / Оценка качества железорудных брикетов, содержащих углерод // Металлургическая и горнорудная промышленность.–2012.-?7(279);
- Пинчук С.И., Полякова Н.В., Ковзель М.А. / Оценка стойкости высокохромистого чугуна при термических и механических воздействиях. // Металлургическая и горнорудная промышленность.–2012.- ? 1.