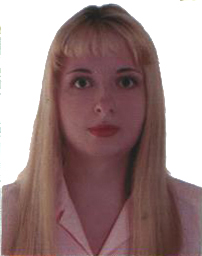 Abramova Olena Viktorivna
candidate of philological science, assistant professor
Contacts:
E-mail: elva@ua.fm
Phone : (+38056)374-82-64
Room : 422
EDUCATION: graduated from Dnepropetrovsk State University in 1997.
Specialty: English Language and Literature.
Has been working as a teacher at the Department of Translation and Foreign Languages of National Metallurgical Academy of Ukraine since 2003.
RESEARCH INTERESTS:
History of Foreign Literature, Foreign Literature of the Nineteenth Century, Victorian Literature, English Language Styling, English Grammar, Foreign Language Teaching.
LECTURES:
History of Foreign Literature (lectures).
English Grammar, Spoken English, Problems of Social and Cultural Varieties in Translation (practical classes).