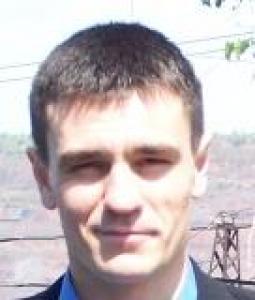 Maksim Viktorovich Yagolnik
candidate of technical science, assistant professor
Contacts:
E-mail: Yagolnik@i.ua
Phone : 38-00, +380667799537, +380979795022, +380563713724
Room : 414
Maksim Viktorovich Yagolnik - a Candidate of Science, associate professor. He is a specialist in the field of the development of such new technologies as the agglomeration of raw material that contains carbon, and the production of iron-ore material, agglomerated by means of cementitious additives of cold solidification.
Scientific publications:
Ковалев Д.А., Ванюкова Н.Д., Ягольник М.В. Исследование факторов разупрочнения железорудных окатышей / Системні технології. Регіональний міжвузівський збірник наукових праць. – Випуск 1 (36). – Дніпропетровськ. – 2005. – 166 с. (С. 26-32).
Исследование влияния процессов активации твердофазовых реакций на качество продукта и производительность при окусковании железорудных офлюсованных шихт / А.В. Бабенко, Д.А. Ковалев, Н.Д. Ванюкова, М.В. Ягольник // Сучасні проблеми металургії. Наукові праці. – Том 9. – Дніпропетровськ: Системні технології, 2006. – С. 53-64.
Ковалев Д.А., Бабенко А.В., Ванюкова Н.Д., Ягольник М.В. Исследование механизма упрочнения железосодержащих окатышей из многокомпонентной шихты при добавках портландцемента // Системные технологии. Региональный межвузовский сборник научных работ. – Выпуск 3 (50). – Днепропетровск, 2007. – С. 139-149.
Scientometric resources: Google Scholar