---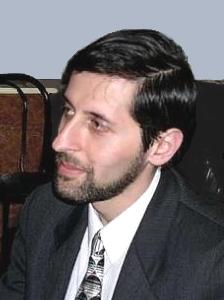 ZELIKMAN, Vladyslav
Department manager
candidate of technical science, assistant professor
Contacts:
E-mail: zelikman.kaf-oa@email.ua
Phone : +38 (0562) 47 44 51
Room : Б-306
Mr. Zelikman has been teaching at the National Metallurgic Academy of Ukraine over 15 years. He is lecturing students in a number of disciplines such as "Enterprise Reporting", "Audit", "Controlling", "Fundamentals of Scientific Researches" and more. Mr. Zelikman has completed a number of advanced training courses, seminars and workshops (some of them overseas), he has elaborated and now hosts several courses and training programs in economics, business activity and management.
Mr. Zelikman is actively engages in scientific researches dedicated to improving management system at enterprises and elaboration of computer models for quality improvement and cost reduction in metal processing. He has authored over 180 scientific essays, science-and-methodology works and co-authored 7 monograph studies. At present he is also working on his doctoral thesis titled "Ways of solving organizational and economic problems of business profit-management".
Google Scholar information The information in ORCID
Current scientific printed works:
1. Сокольська Р.Б., Зелікман В.Д., Акімова Т.В. Особливості організації системи фінансового обліку як соціально-економічної системи в умовах впливу інституціонального ізоморфізму // Економічна кібернетика: від теорії до практики: збірник наукових праць за матеріалами Всеукраїнської науково-практичної конференції, 27–28 лютого 2015 р. – Дніпропетровськ: Герда, 2015. – 346 с. – С. 108 – 111.
2. Зелікман В.Д., Сокольська Р.Б. Система методів управління прибутком на підприємстві та вимоги до її інформаційного забезпечення // Фінансові механізми сталого розвитку економіки: теоретичний та практичний аспекти: Матеріали Всеукраїнської заочної конференції викладачів, студентів, аспірантів та молодих учених, Дніпропетровськ, 23-24 квітня 2015 р. / Національна металургійна академія України. – Д.: «Акцент ПП», 2015. – 246 с. – С. 135 – 140.
3. Сокольська Р.Б., Зелікман В.Д., Єрьоміна О.Л. Формування документального забезпечення на стадії планування аудиту // Науковий вісник Херсонського державного університету. Серія Економічні науки. Випуск 8. Частина 1. – Херсон, ХДУ, 2014. - С. 192-196.