---
Department of metallurgical fuel and refractory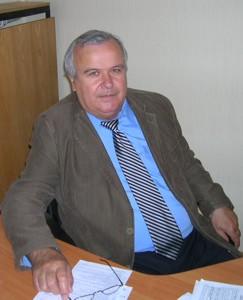 Department manager: Starovoit Anatoliy Grigorievich
Contacts:
Address Department MFR, NMetAU, of. 325, 4, Gagarin av., Dnipropetrovsk, Ukraine, 49600
E-mail: nmetau_mtv@i.ua
Phone: (+38056)-374-83-97, (+38056)-374-83-62, (+38056)-374-89-86
---
---
The Department was founded on the 14th of March, 1944. Primary name of Department is "Chemical technology of solid fuel".
By the first manager the department of the Metallurgical fuel and repairers was associate professor I.M. Khanin, known the labours on the design of the heating system of coke stoves. From 1948 to on a 1975-y department was managed by d.t.n., professor A.S. Bruk, prominent specialist, studying properties of metallurgical coke. From 1975 to 1997 managing a department passed to d.t.n., V.F. Goncharovu, which successfully developed scientific direction on the receipt of new types of metallurgical fuel and repairers. From 1997 a department was managed by d.t.n., professor V.M. Egorov - known specialist on the production of rudno-uglerodistykh materials and modification of properties of products of koksokhimicheskogo production. From 2002, and for a present tense the department of MTV is managed by d.t.n., professor A.G. Starovoyt - leader of industry of koksokhimicheskogo production of Ukraine.
The characteristic feature of scientific school of koksokhimikov, which was folded on the department of MTV, is the close co-operating with the numerous scientific, project and production collectives of industry.
The department MFR graduates: bachelors - speciality 6.0916 "Chemical technology of fuel and carbon materials"; specialists in direction 7.091605 "Chemical technology of fuel and carbonic materials"; master's degrees in direction 8.091605 "Chemical technology of fuel and carbonic materials", takes part in preparation of bachelors, specialists and master's degrees in direction of Silicates.
The Department has a subject audience and two educational-scientific laboratories with general area 87 and 42 m2, equipped with the laboratory installation for Determination of descriptions of technical analysis of coal, coke and different kinds of carbonic materials, of indexes of caking, studying the processes of caking and cokeformation, derivatografic, dilatometric, fotocolorimetric and other researches. In addition laboratories are supplied with the equipment for the study of thermal, mass-exchanging, hydrodynamic and mechanical processes and vehicles of chemical technology.
The Department teaches disciplines, which have a professional orientation. Namely: physical and chemical bases of processes of treatment of fuel fossil, technology and equipment of processing of hard fuel fossil, preparation of coal for coking, production of coke and carbonic materials, catching and processing of volatile products of coking.
---