---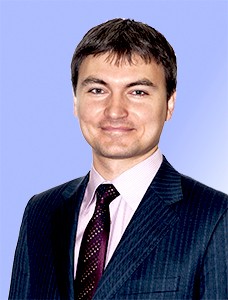 Boiarkin Viacheslav
candidate of technical science, assistant professor
Contacts:
E-mail: boiarkin@metal-forming.org
Phone : 31-94, 35-66
Room : 334; А-312
Graduated from National Metallurgical Academy of Ukraine in 2000 (Master's Degree in Metal Forming). Received a Cand. Sc. (Tech.) at the chair of Metal Forming in 2005 (specialty 05.03.05 "Processes and Machines in Forming"). Has been working in NMetAU since 2003.
Key research areas:
1. Hollow profiles production
research of forming;

energy, force and kinematic parameters of processes.
2. Optimizing the parameters of combined processes of forming and heat treatment
development of mathematical models using the finite element method;

mechanical properties forecasting.
The list of main papers:
1. Процессы деформации металла на основе многовалковых калибров И.К. Огинский, В.Н. Данченко, А.А. Самсоненко, В.В. Бояркин. Днепропетровск: «Пороги», 2011. – 350 с. – ISBN 978-617-518-161-4
2. Ресурсозбереження та екологія в процесах обробки металів тиском: Підручник. // Ю. М. Стасовський, В. Л. Чухліб, В. В. Бояркін. – Днепропетровск : Пороги, 2013. – 353 с. – ISBN 978-617-518-250-5
3. Бояркін В.В. Зв'язок між інноваціями у галузі сталого розвитку та змістом вищої освіти Бояркін В.В. / [Кузьмина О.М., Потап О.Є., Стогній Ю.Д., Шатоха В.І., Петренко А.Л.] // Європейський досвід підготовки інженерів до сталого розвитку. – Дніпро : Дріант, 2016. – С. 73–91. ISBN 978-966-2394-29-0
4. Данченко В.Н., Бояркин В.В., Дыя Х. Разработка технологической схемы производства прямоугольных труб высокой точности на основе математического моделирования // Производство проката. – 2005. – № 2. – С. 17-20. — ISSN 1684-257X
5. Research of deformation ability of Al-based alloy of system Al-Mg-Sc / A. N. Golovko, V. V. Andreiev, V. V. Boyarkin, I. V. Frolov, A. Kawalek // HUTNIK-wiadomosci hutnicze. – Nr 5. – 2012. – S. 312-315. – ISSN 1230-3534
6. Modeling of Spray Cooling during Induction Hardening of Spur Gearwheels Made from 42CrMo4 Hardening and Tempering Steel / D. Rodman, V. Boiarkin, F. Nürnberger, A. Dalinger, M. Schaper // Steel Research International. – May, 2014. – Vol. 85. – Issue 5. – Pр. 741-755. – ISSN 1611-3683
7. Prozessauslegung für das induktive Randschichthärten mittels inverser numerischer Methoden / Schlesselmann, D.; Yu, Z.; Krause, C.; Boyarkin, V.; Nacke, B. // Elektrowärme international 72, Jahrgang, Heft 4, S. 85-91, 3, 2014. – ISSN 0340-3521