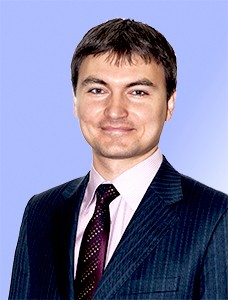 Boiarkin Viacheslav
candidate of technical science, assistant professor
Contacts:
E-mail: boiarkin@metal-forming.org
Phone : 31-94, 35-66
Room : 334; А-312
Graduated from National Metallurgical Academy of Ukraine in 2000 (Master's Degree in Metal Forming). Received a Cand. Sc. (Tech.) at the chair of Metal Forming in 2005 (specialty 05.03.05 "Processes and Machines in Forming"). Has been working in NMetAU since 2003.
Key research areas:
1. Hollow profiles production
research of forming;

energy, force and kinematic parameters of processes.
2. Optimizing the parameters of combined processes of forming and heat treatment
development of mathematical models using the finite element method;

mechanical properties forecasting.
Main papers:
Last five years:
Konovodov D., Boiarkin V., Mokiievets O., Rodman D. Simulation of thermal processes in winded hot-rolled strip coil made of low carbon steel, Plastic deformation of metals. Accent PP, Dnipro, 2017, – P. 17-20. - ISBN 978-966-291-124-8
Besserer, H.-B.; Boiarkin, V.; Rodman, D.; Nürnberger, F.: Qualifying Electrically Conductive Cold Embedding-Media for Scanning Electron Microscopy, Metallography, Microstructure, and Analysis 5, 2016 (4), 332-341 DOI: 10.1007/s13632-016-0286-9
Hordych, I.; Boiarkin, V.; Rodman, D.; Nürnberger, F.: Manufacturing of tailored tubes with a process integrated heat treatment, AIP Conference Proceedings 1896, 190003 (2017) DOI: 10.1063/1.5008216
Hordych, I.; Bild, K.; Boiarkin, V.; Rodman, D.; Nürnberger, F. Phase transformations in a boron-alloyed steel at high heating rates, Procedia Manufacturing, Volume 15, 2018, P. 1062-1070
Hordych, I., Herbst, S., Nürnberger, F., Boiarkin, V., Hubert, O., Maier, H.J. Manufacturing and Virtual Design to Tailor the Properties of Boron-Alloyed Steel Tubes(Book Chapter), Lecture Notes in Applied and Computational Mechanics, Volume 93, 2020, Pages 21-44. ISSN: 16137736. DOI: 10.1007/978-3-030-38156-1_2
Another:
Бояркін В.В., Нікулін Е.В. Розрахунок діаметра заготовки для профілювання квадратних і прямокутних труб, Металлургическая и горнорудная промышленность. – 2002. – № 8–9. – С. 446–448.
Бояркин В.В., Никулин Э.В. Выбор технологических схем производства профильных труб, Вестник Национального технического университета Украины «Киевский политехнический институт»: Машиностроение. – K.: НТУУ "KПИ". – 2003. – Вып. 44. – С. 60–63.
Бояркін В.В., Дыя Х., Данченко В.Н. Исследование формирования сторон профиля квадратных и прямоугольных труб с применением математического моделирования, Металлургическая и горнорудная промышленность.. – 2004. – № 6. – С. 52–55.
Шпрингер Р. Исследование мартенситного превращения в улучшаемых сталях для автомобильного производства путём микроструктурного анализа и численного моделирования / Р. Шпрингер, Г. Герштейн, В. В. Бояркин, Фр. -В. Бах // Металл и литье Украины. - 2006. - № 9-10. - С. 54-57. - Библиогр.: 15 назв. - рус.
A. N. Golovko, V. V. Andreiev, V. V. Boyarkin, I. V. Frolov, A. Kawalek Research of deformation ability of Al-based alloy of system Al-Mg-Sc, HUTNIK-wiadomosci hutnicze. – Nr 5. – 2012. – S. 312-315. – ISSN 1230-3534.
Миронова Т. М., Ашкелянець А. В., Петруша А. А., Бояркін В. В., Моргун І. В. Дослідження особливостей поведінки двошарових чавунних заготівок в процесі кування / Обработка материалов давлением : сборник научных трудов. – Краматорск : ДГМА, 2019. № 2 (49). С. 76-81
Modeling of Spray Cooling during Induction Hardening of Spur Gearwheels Made from 42CrMo4 Hardening and Tempering Steel / Dmytro Rodman, Viacheslav Boiarkin, Florian Nürnberger, Andrej Dalinger and Mirko Schaper // Steel Research International. Volume 85, Issue 5, pages 741–755, May 2014. . – ISSN 1611-3683 DOI: 10.1002/srin.201300201
Schlesselmann, D.; Yu, Z.; Krause, Ch.; Boyarkin, V.; Nacke, B. (2014): Process design for inductive surface hardening using an inverse numerical approach, HEAT PROCESSING, Vol.: 12, Issue 4, 2014, p. 65-71 ISSN 0340-3521
Books and monographies:
Процесы деформации металла на основе многовалковых калибров // И. К. Огинский, В. Н. Данченко, А. А. Самсоненко, В. В. Бояркин. – Днепропетровск : Пороги, 2011. – 350 с. - ISBN 978-617-518-161-4.
Ресурсозбереження та екологія в процесах обробки металів тиском: Підручник. // Ю. М. Стасовський, В. Л. Чухліб, В. В. Бояркін. – Днепропетровск : Пороги, 2013. – 353 с. - ISBN 978-617-518-250-5.
Бояркін В.В. Зв'язок між інноваціями у галузі сталого розвитку та змістом вищої освіти - Бояркін В.В. / [Кузьмина О.М., Потап О.Є., Стогній Ю.Д., Шатоха В.І., Петренко А.Л.] // Європейський досвід підготовки інженерів до сталого розвитку. – Дніпро : Дріант, 2016. – С. 73–91. ISBN 978-966-2394-29-0
Нікітіна І.П., Кирпита Т.В., Бояркін В.В. English for Metal Forming Engineering. Навчальний посібник. – Дніпро:НМетАУ, 2019. –43с.
Additional Information.
Advanced training organization of the department staff.