SERGEY TIGIPKO
Sergey Tigipko - Ukrainian financial and political activist, chairman of the party "Labor Ukraine".
Born February 13, 1960 in the village Dragoneshty Moldavian SSR in the family head apiary.
• In 1982 he graduated from the Dnipropetrovsk Metallurgical Institute with a degree in Foundry.
• In 1982-1984 he served in the Army.
• Since 1984 - Secretary of the Komsomol committee, department head and deputy director on educational work Dnepropetrovsk Metallurgical College.
• Since 1986 - Head of the Propaganda Department of the Dnipropetrovsk Regional Komsomol
• Of August 1989 - First Secretary of the Komsomol.
• In the early 1990's met with Leonid Kuchma, the plant manager Yuzhmash (Dnepropetrovsk).
• Since October 1991 - Deputy Chairman of the bank of the Dnepr.
• From March 1992 - Chapter Privatbank (Dnepropetrovsk). Around the Bank formed the financial and industrial group "Privat", which owned significant assets in the metallurgical and petroleum industries and in the media, according to the media, in the Kiev branch of the bank worked Leonid Kuchma's daughter Olena Franchuk.
• Since November 1994 - Freelance Consultant President Leonid Kuchma on monetary policy.
• From April 1997 - Deputy Prime Minister for Economic Reform in the office of Pavel Lazarenko. To retain the post office Valery Pustovoitenko.
• Since December 1999 when the new Prime Minister Viktor Yushchenko - Minister of Economy, Viktor Yushchenko and Vice Prime Minister Yulia Tymoshenko did not work.
• June 25, 2000 was elected to the Verkhovna Rada, has left the government.
• November 18 2000 - Chairman of the party "Labor Ukraine".
• Since 2001, went out of business FPG "Private".
• In May 2001, following the resignation of Viktor Yushchenko was seen as a candidate for the post of prime minister.
• In 2002 went to the parliament from the bloc "For a United Ukraine".
• On 17 December 2002 he was elected head of the National Bank.
• In October 2003, announced his intention to run for president, but then backed Viktor Yanukovich, and led by his election headquarters.
• November 29, 2004 resigned as head of the National Bank and head of Yanukovych's campaign headquarters.
• From January 12, 2016, Chairman of the Supervisory Board of TASCOMBANK.
Events and Business - FPG TAS (named for the initials of his daughter Tigipko Aunt Anna). The group consists of TAS-Commerzbank "," Tas-investment bank, insurance companies and TAS TAS-Capital ", Firm TAS, TAS - Clinic of Family Medicine.
Ph.D. in Economics (1997, thesis - "Formation and government regulation of commercial banks in Ukraine).
The author of the book "Banking reform in Eastern Europe and Russia.
Speaks Ukrainian, Russian and French.
Hobby: bar, tennis, skiing, swimming.
Married. His wife Natalia - co-owner of TAC, daughter Anna, born in 1984, studying in the UK.

Source of information - newspaper Kommersant, December 1, 2004.

From March 2010 - Deputy Prime Minister in the government Azarov.
---
Images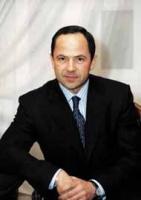 Sergey Tigipko
---
---
Uplink: Our graduates