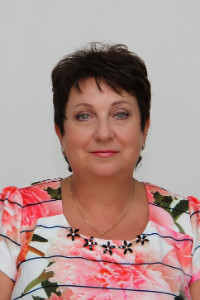 Sukhareva Maryna Vitaliivna
senior teacher
Contacts:
E-mail: mvsv23@ukr.net
Phone : (+38095) 778-99-05
Room : М 808
DMetI graduated in 1980 with a degree in "Industrial power system". After finishing graduate school he worked as a junior researcher at the Department of industrial power system. Since 1995 he worked as an assistant of the department of engineering ecology and labor protection. Since 2012 senior lecturer of the department and the Deputy Head of Department for Academic Affairs. He is co-author of five inventions of several scientific articles and more than 20 methodical developments.
Google Scholar

Academic disciplines taught in NMetAU:
Soil Science.

Landscape ecology.

Wildness protection.

Radiological Ecology.

The direction of scientific publications:
Anthropogenic soil contamination.

Land reclamation.

Investigation of possibilities of recycling waste.

Environmental education for sustainable development.

Main areas of research:

Бабенко Л.В., Пустоварова Т. М., Сухарева М. В., Корягин Д. В. «К вопросу перспективы использования полигона для утилизации твердых бытовых отходов» - Збірник статей V Міжнародної науково-практичної конференції «Теорія та практика вирішення екологічних проблем у металургійній та гірничо-видобувній промисловості» – 08 – 11 листопада 2011. – Дніпропетровськ. - НМетАУ. – с.114 – 120.
Бабенко Л.В., Пустоварова Т. М., Сухарева М. В. «К проблеме утилизации твердых бытовых отходов» - Збірник статей V Міжнародної науково-практичної конференції «Теорія та практика вирішення екологічних проблем у металургійній та гірничо-видобувній промисловості» – 08 – 11 листопада 2011. – Дніпропетровськ. - НМетАУ. – с.124 – 129.
Дослідження можливості знешкодження ціанідів гальваностоків реагентним засобом. Бобилєв В.П., Сухарева М.В., Мєшкова А.Г. Збірник статей VІ Міжнародної науково-практичної конференції «Теорія та практика вирішення екологічних проблем у металургійній та гірничо-видобувній промисловості». –Дніпропетровськ. – НМетАУ, 2013.
Дослідження та розробка рекомендацій щодо стандартизації та оновлення найбільших рекреаційних зон м. Дніпропетровська. Пустоварова Т.М., Сухарева М.В., Мєшкова А.Г. Збірник статей VІ Міжнародної науково-практичної конференції «Теорія та практика вирішення екологічних проблем у металургійній та гірничо-видобувній промисловості». – Дніпропетровськ. – НМетАУ, 2013.
Бобилєв В.П., Мєшкова А.Г., Сухарева М.В. Дослідження можливості знешкодження стічних вод, які містять хром, методом сорбції з регенерацією хромат-іонів // Теория и практика металлургии: Общегосударственный научно-технический журнал. – Днепропетровск: НМетАУ, № 1-2, 2014, – С. 94-98.

LecturerWikipedia: A Lecturer is, in the broadest sense, a person who gives lectures or other public speeches.→