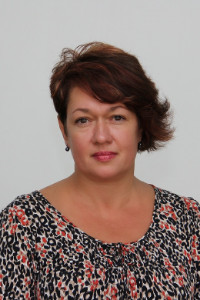 Mieshkova Anzhelika Hennadiivna
senior teacher
Contacts:
E-mail: mag03111968@gmail.com
Phone : (+38099) 110-67-87
Room : М 808
From 1985 to 1990 she studied at the Dnepropetrovsk Chemical-Technological University, graduated with honors, qualified chemical engineer. From 1990 to 1993. He worked in the department "UMZ" in the department of safety and environmental protection in the laboratory of the "Protection of the water basin." In 1993-1996. I was trained in graduate school in NMetAU. Then he worked as an assistant at the Department of IE and OT. Since 2000 - Senior Lecturer, Department of IE and OT. He is co-author of two inventions, several scientific articles and more than 20 methodical developments.

Academic disciplines taught in NMetAU:
1. Development and operation of water basin protection systems.
2. Hydrology.
3. Protection of the water basin.
4. Water supply, sanitation and water quality improvement.
5. Technologies of water resources protection.

The direction of scientific publications:
Possibilities of recycling waste for the production of sorbents for the purification of industrial waste water.

The role of the environmental focus of education in shaping the world view and related to sustainable development.

Main areas of research:
Дослідження можливості знешкодження ціанідів гальваностоків реагентним способом / Мєшкова А.Г., Сухарева М.В. // Международная конференция: Литье: Металлургия. - Запорожская торгово-промышленная палата, 2014. 353-355с.

Дослідження можливості знешкодження ціанідів гальваностоків реагентним засобом. Бобилєв В.П., Сухарева М.В., Мєшкова А.Г. Збірник статей VІ Міжнародної науково-практичної конференції «Теорія та практика вирішення екологічних проблем у металургійній та гірничо-видобувній промисловості». 8 листопада 2013 р.
Дослідження та розробка рекомендацій щодо стандартизації та оновлення найбільших рекреаційних зон м. Дніпропетровська. Пустоварова Т.М.,Сухарева М.В., Мєшкова А.Г. Збірник статей VІ Міжнародної науково-практичної конференції «Теорія та практика вирішення екологічних проблем у металургійній та гірничо-видобувній промисловості». 8 листопада 2013 р.