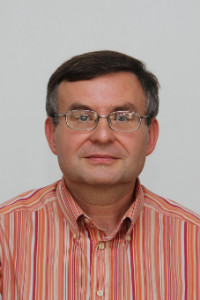 Savvin Oleksandr Vitaliiovych
candidate of technical science, assistant professor
Contacts:
E-mail: A_savvin@email.ua
Phone : (+38067) 887-68-96
Room : М 810-1
In 1992 he graduated with honors with a degree in DMetI "rolling production automation." In 1995 he graduated from the graduate school. PhD thesis defended in 1997 under the leadership of prof. VP Bobylev specialty "Technical means of protecting the environment." Since 2003, an assistant professor of environmental engineering and safety NMetAU. Co-author of the patent of Ukraine, more than 40 scientific articles and methodological developments. Manages the process of implementation of the learning process of distance learning. Specialists in the field of graphic and mathematical programs: Adobe Photoshop, Illustrator, InDesign, Page Maker, Corel DRAW, QuarkXPress, MathCAD.
Academic disciplines taught in NMetAU:
Meteorology and climatology.

Modeling and forecasting of the state of the environment.

System analysis of environmental quality.

Geoinformation systems in ecology.

Cartographic methods in ecology.

The direction of scientific publications:
Disposal of waste metallurgical production.

Main areas of research:
1 . Bobylev V., Savvin A., Zragevsky A. Working out an ecologically clean metallurgical ladles monolithic pouring refractory lining drying technology // Stahl und eisen. - 1996. - October (Special). - P. 37-40.

2. Бобилєв В.П., Саввін А.В. Пристрій для змішування та гранулювання сипучих матеріалів. Патент UA 20429 А Украины. Опубликован 15.07.1997. Бюл. №1.

3. Бобылев В. П., Саввін О.В., Турищев В.B., Гордиенко О.В. Теоретические основы повышения эколого-технологической эффективности гранулирования и упрочнения окатышей // Теория и практика металлургии. – 2007. № 4 – 5. С 39-43.

4. Белоножко М.В., Саввін О.В., Белоножко К.М. Принятие решений о соответствии результатов измерений действующим нормам // Збірник статей V Міжнародної науково-практичної конференції «Теорія та практика вирішення екологічних проблем в металургійній та гірничо-видобувній промисловості». – Дніпропетровськ: вид. «Типографія Україна», 2011. – 166 - 171 с.

5.Бобилєв В.П., Саввін О.В., Матухно О.В., Познякова Д.В. Математичне моделювання екологічних задач з обмеженням // Системні технології. – Дніпропетровськ, НМетАУ, 2015. – №1. С. 189-195.