Department of matherial science and heat treatment of metals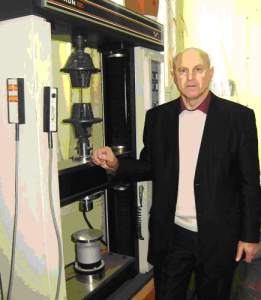 Department manager: Deineko Leonid Nikolayevich
Contacts:
Address 4, Gagarin ave., Dniepropetrovsk, Ukraine, 49600
E-mail: leonid_deyneko@i.ua
Phone: (+38 056) 746-24-53; 3748-052
---
---
Department of Heat Treatment was established in 1931 to provide training of metallurgical engineers in the specialty "Physical Metallurgy and Heat Treatment of Metals."
The formation and development of the department are associated with the names of prominent Ukrainian scientists of worldwide reputation: academicians V.N.Svechnikov, V.N.Gridnev, K.F.Starodubov etc.
Department has prepared more than 4,800 heat-treater engineers, 7 Doctors of Sciences (DSc), more than 100 Candidates of Technical Sciences. They successfully work in steel plants, research institutes, universities, high schools of I-IV levels of accreditation, in many enterprises and organizations of Ukraine, CIS countries, in foreign countries (U.S.А., Canada, Germany, France, Italy, Israel, etc.).
Currently, the department prepares:
– Bachelors in "MMaterials Science" on the specialty "Engineering Materials Science» (code 6.132), as well as Masters on the specialty "Heat Treatment of Metals" (code 8.132).
- Forms of education are full-time and extra-mural.
– Doctors of Sciences (DSc) and Candidates of Technical Sciences at the post-graduate studies (full-time and part-time) in the specialty 051601 - "Physical metallurgy and Heat Treatment of Metals", including the two-way form of education at leading universities abroad.
During their training at the academy the students participate in competitions of various levels for the best student scientific work and always win prizes and awards. This is largely due to the fact that the students take part in research work in various areas conducted by the department.
The department has a lecture hall, equipped with modern technical facilities; a computer lab; laboratories for heat treatment, light and electron microscopy, X-ray analysis, testing of metal alloys and materials (certificate of attestation N ПЧ -140/2005 from 10/11/05).
---