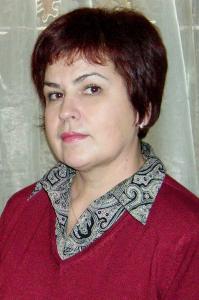 Korogod Nataliia
candidate of ped science, professor
Contacts:
E-mail: n.korogod@gmail.com
Phone : 47-42-15
Room : 236
Ph.D., assoc.prof., lead of the IP department. Has been working in NMetAU since 2002. Total teaching experience is more than 20 years. Graduated the next specialties: physicist (DNU), manager-economist (NMetAU). Raised the level of skills in the Central Institute of Postgraduate Teacher Education in Academy of Pedagogical Sciences MES of Ukraine (2004, Kiev), the Institute of IP and Law (2005, 2008, Kiev), Pridneprovsky Scientific Center of NAS of Ukraine and Ministry of Education and Science of Ukraine (Dnipro, 2014).
Scientific interests: intellectual property management at the modern enterprises and organizations, the problems of training specialists in the branch science of intellectual property.
Public activities: member of the Scientific and Methodological Council NMetAU, a member of the Academic Council of Humanitarian faculty, member of the delegation of the labor collective of humanitarian faculty, member of the examination committee of the Department for the protection of master's theses.