---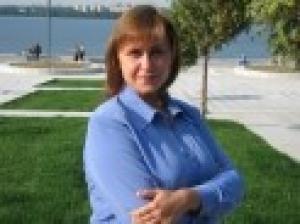 Tkachenko Natalia Illinachna
candidate of economical science, assistant professor
Contacts:
E-mail: mail25@ua.fm
Phone : 097-078-00-83, 099-360-17-45
Room : 201
In 1996, she graduated with honors from the State Metallurgical Academy of Ukraine with a degree in Enterprise Economics and received the qualification of an engineer-economist (diploma LTE BE No. 001820), in 2000 - graduate school at the Department of Political Economy of the National Metallurgical Academy of Ukraine.
In 2008 she defended her thesis on the specialty 08.00.01 - Economic Theory and History of Economic Thought (051 - Economics), diploma DK No. 047063, decision of the Certification Board of July 2, 2008 (thesis topic: "Differential rent and the mechanism for its implementation in subsoil use ")
In 2010 he was awarded the scientific title of Associate Professor of the Department of Political Economy (certificate No. 023291, decisions of the certification board of the Ministry of Education and Science of Ukraine dated June 17, 2010 (protocol No. 2/03-D)).
Experience in scientific and pedagogical activity 23 years.
Since 1996, the department has been teaching a number of fundamental and special disciplines for bachelors: "Fundamentals of Economic Theory", "Microeconomics", "National Economy", "International Trade and World Markets", "International Business", "International Organizations"; for masters: "European Business and Industrial Markets", "International Business and Competition", "Theory of Industrial Markets", etc.
She is main areas of scientific activity: the economic mechanism for the implementation of rental relations in the field of subsoil use, the implementation of property rights to subsoil and rental income, the distribution and redistribution of rent, international business in the markets for production facts, international trade in raw materials.
She is author of more than 90 scientific, methodological and educational works.
Member of public organizations: International Association of Institutional Studies, Ukrainian Association of Political Economy.
Awards and distinctions: Certificate of honor of the administration of NMetAU (2006), Diploma of the Dnipropetrovsk city council (2012).
Google Scholar Citation:
Scientifically metrical resources: Google Scholar
Publication:

1. Ткаченко Н.І. Мікроекономіка. Частина 1: Консп. лекцій. – Дніпропетровськ: НМетАУ, 2015. – 36 с. (2,09 д.а.).
2. Ткаченко Н.И., Ткаченко И.Д. Причины поглощения предприятий// Молода академія – 2015: Збірка тез доповідей Всеукраїнської науково-технічної конференції студентів і молодих учених. –Дніпропетровськ: НМетАУ, 2015.
3. Ткаченко Н.І., Ткаченко І.Д., Абрамов М.Д. (ЕП01-14) Мікроекономічний погляд на проблему виникнення корупції // Правова держава: історія, сучасність та перспективи формування в Україні: Матеріали Всеукраїнської наук.-практ. конф. (Дніпропетровськ, 31 жовтня 2014 р.). – Дніпропетровськ: Середняк Т.К., - ДДУВС, 2014. – С. 307-308.
4. Ткаченко Н.И., Ткаченко И.Д. Абрамов Н.Д. (ЕП01-14) Монополистическая конкуренция: характеристика взаимодействия производителя и потребителя // Проблеми застосування цивільного та господарського кодексів України: матеріали круглого столу кафедри цивільно-правових дисциплін юридичного факультету Дніпропетровського державного університету внутрішніх справ (21 листопада 2014 р.) – Дніпропетровськ: ДДУВС, 2015. – С.46-47.